The Oldley Store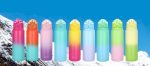 The durable double wall stainless steel vacuum insulated technology can keep drinks icy cold and flowing all day and make your drinking experience more enjoyable. With three choices of lid, Oldley bottles come in vibrant colors with high quality paint finishes and graphics that are always as expressive as you are.
Insulated Ceramic Coated Tumblers
DISHWASHER SAFE
The Oldley products are mostly dishwasher-safe. Easy to clean and stand the test of time.
REUSABLE
Durable and reusable. Say bye-bye to single use.
VACUUM INSULATED
Hot stays hot. Cold stays cold. You can stay focused on everything else.
KID-FRIENDLY
Kids can open and close Oldley bottles all by themselves.