These adorable stainless steel water bottles for kids are perfect for school, vacations, car rides, or anywhere your little ones need a drink on the go!
Plastic pollution is becoming an increasingly serious issue that affects the whole world. Thankfully, many companies have taken note and are making an effort to switch from plastic products to glass, stainless steel, or recycled materials.
Stainless steel water bottles are a sustainable solution for kids that is safe, BPA-free, and rust-free.
Kids Water Bottle Features
These stylish and sustainable water bottles come with many great features and customization options. Parents, you might love these water bottles so much and decide to use them, yourself!
Overall Appearance
Upon first glance, these water bottles are cute and stylish. The powder coat exterior finish is slip-resistant (which is perfect for little hands) and quite durable. It will certainly last through many trips to school and playdates!
24-hour Insulation
The stainless steel interior is double-walled and designed to keep hot drinks hot and cold drinks cold for up to 24-hours. In addition, the water bottle is dipped in copper before the powder coat exterior is applied, which provides an extra layer of temperature control.
Lids
The 12 oz kids' water bottle comes with two leak-proof lids. One lid has a silicone straw attachment and the other opens to a "fast flow" mouthpiece for quick hydration.
Both lids feature locking covers and silicone ring seals, so liquid doesn't pour out when not in use. Small children likely won't be able to unlock the lids on their own, which adds an extra layer of security to these water bottles.
The 18 oz water bottle comes with both lids we just mentioned PLUS a wide lid. The wide lid has a clip handle so it can easily be attached to a backpack and become the perfect insulated water bottle for kids for school.
Accessories
The 12 oz insulated water bottle for kids comes with a metal strainer that can be inserted and used to filter out fruit pieces, if you'd like to infuse your child's water with lemon, strawberries, raspberries, etc.
A straw cleaner is included with every order, so you can easily clean out the silicon straw.
Does your child love stickers? Good news! A pack of adorable stickers is included in each order so your little one can customize the look of their water bottle!
Colors
Both water bottle sizes come in over 10 different colors, which is amazing because every kid can get their favorite color.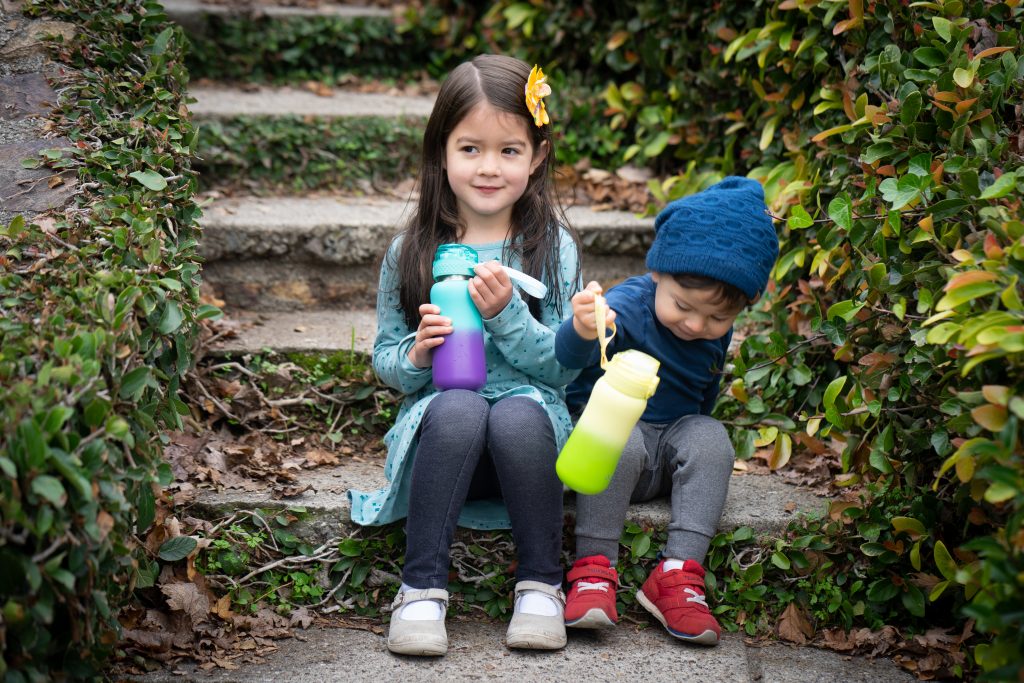 Final Thoughts
Overall, these kids' water bottles 12oz/18oz are a great deal. They come at a great price point, especially considering how many accessories and customization options are included with each product.
Don't wait to pick up one (or both!) of these stainless steel water bottles for kids. This is a one-time purchase that you will give many years of use. Plus, you'll have peace of mind knowing that you made a smart and sustainable purchase. Shop today!